ANNOUNCEMENTS
15 days ago
BE BETTER TOMORROW

At Prairie Wind Elementary School we challenge ourselves to Be Better Tomorrow!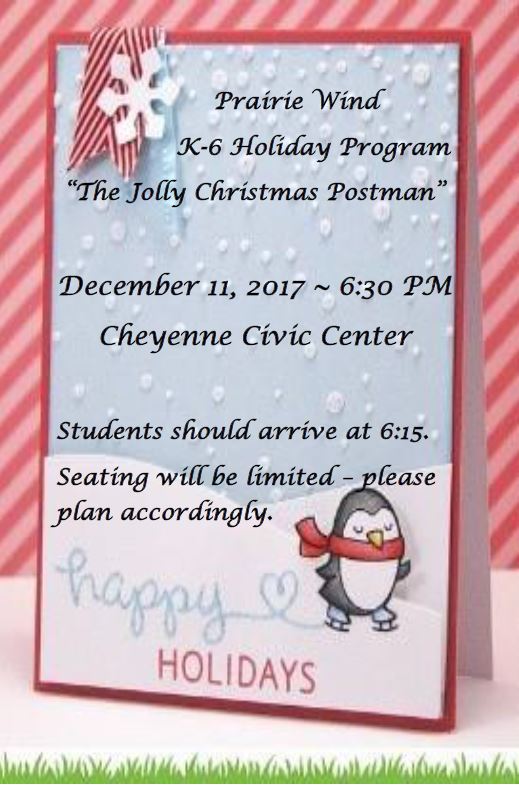 SCHOOL RESOURCES - Click Each to Download
PRINCIPAL'S PAGE
about 1 month ago
Prairie Wind elementary

Dear Prairie Wind Friends and Families,
Welcome to the fall season! I am amazed at how quickly the first 9 weeks of our 2017-18 school year has gone by! I want to take this opportunity to express my appreciation to all of you for a tremendous start to the school year and your assistance with many of our start of the year protocols and procedures. I appreciate so much the warm welcome from our Prairie Wind School Community as I transitioned into a new opportunity! It has been a pleasure to meet and interact with so many of you from our Open House and Principal's Huddle, to the last several weeks of our first quarter. I am truly blessed to work with such a fine school community.
I am so proud of our students and their efforts to respond to challenging and engaging instructional activities. Our teaching staff has worked extremely hard in collaborating and planning for high leverage instruction through our Professional Learning Community process. The very essence of a learning community is a focus on and a commitment to the learning of each student.
School and home partnerships are critical to the success of student growth; academically, socially, and behaviorally. Thank you for supporting our efforts as we continue to strive for excellence for students and staff!
We will continue to evaluate our practices and procedures throughout the school year to improve the positive culture and learning climate of our school community. Please feel free to stop in and say hi during any of your visits to Prairie Wind!
Thank you for sharing your child with us!
My Best,
Lisa Weigel
Principal, Prairie Wind Elementary School
Prairie Wind PTO
18 days ago
Stand up for what is right,

even if you are standing alone.